Our proud history
St Joseph's Hospice was founded by the Sisters of Charity in 1905 and is located in Mare Street, Hackney. It has a special importance within the global history of hospice and palliative care. It is the oldest hospice in England to have remained within its founding framework. Here is our story.
The beginnings
The story began in 1900 when Cardinal Vaughan, Archbishop of Westminster and Father Peter Gallwey invited five sisters of Charity to Hackney, to help the poor and dying of East London.  
Five years later and thanks to Father Gallwey's contact with the affluent Grace Goldsmid and her generosity, the doors of St Joseph's Hospice opened for the first time.  
Humble beginnings - The arrival of the Sisters and the opening of St. Joseph's Hospice 
The Sisters arrival in Hackney was largely due to the faith, hope and untiring persistence of Father Gallwey an Irish Jesuit Priest and to the generosity of a Jewish benefactor Grace Goldsmid.  Grace Goldsmid was present on that welcoming day with her friend and governess Signora Pauline. However, the story all began thirty years before.  
Fr. Gallwey, from Co. Kerry in Ireland was Rector of Farm Street Jesuit Mission. His greatest concern was the dire condition of the poor who suffered and died in the disease-ridden East End of London.  He wanted to have a place for them where they could die in peace.  He was aware of the hospitals and hospices founded in Ireland by the Sisters of Charity. So over thirty years he sent several requests for the sisters to work among the poor in the East End. 
As the years went by, Cardinal Vaughan, Archbishop of Westminster, sent two invitations as well but the funds at his command were very low and he could only offer support. At the end of 1899 a catalyst appeared in the person of Miss Grace Goldsmid. Grace was the second daughter of Jewish parents.  Grace was converting to Catholicism and met Fr. Peter Gallwey on her journey into the faith.  In thanksgiving for his support and her 'gift of faith', Grace offered to provide £300 a year to his long cherished dream for the dying.  This was all that was needed to establish a viable foundation from which the sisters could start their work.  
One thing then led to another when Cardinal Vaughan finally received a response from the Mother General in charge of the Sisters of Charity stating that they now had sufficient sisters available to accept the challenge. Preparations were made for the sisters to arrive in the following year, which would be 1900. 
Arduous journey
Despite the summer weather it had been an arduous journey for the five Sisters who arrived at King Edward Road, Hackney, from the south of Ireland. The date was 27 June 1900. The women had suffered sea sickness on the boat to Holyhead and a weary night train to Euston before travelling by horse-drawn cab through the cobbled streets to East London. Arriving exhausted, their first task was 'to buckle to, unpack and set up the beds.' Five days later, the morning of 2nd July, saw Sisters Catherine O'Flynn, Winefred Sugrue, Mary Sabas O'Connor, Mary Uriel Duffy and Agnes Aloysius Martin welcomed to their new community by Father Denny of St John the Baptist Church and Fr. Peter Gallwey. 
At the turn of the century, the concentrated population of Hackney and Hoxton was considerably larger than that of Dublin and had all the problems of 19th century city life. Living conditions in the crowded tenements of hackney were grim.  Contagious diseases and malnutrition were rife and housing conditions were terrible. Tuberculosis at this time was fatal, claiming many lives.  People who contracted tuberculosis only had two options: They could either die in deplorable institutions of the day or without proper care in the dire poverty of their crowded homes.  
The Sisters were invited to serve and care for the poor sick and dying regardless of nationality or creed.  Their mission was to set up a place where people could die with dignity and love. 
As early as their second week in London, the Sisters started to visit the poor in Hackney and Hoxton in their homes. They also began weekly visits to two infirmaries and the Victoria Park hospital. The Sisters' home visits convinced them of the need to establish a place to care for people dying from tuberculosis, modelled on the institution at Harold's Cross, Dublin. At this time, hospitals were extremely disinclined to admit dying patient and this left workhouses and infirmaries as the only option for many seriously ill people. 
In 1903, the Sisters planned their move to number 6 Cambridge Lodge, a rented villa around the corner from Mare Street. They wrote to their solicitors declaring that the house would be used as a private residence and as a meeting place for mothers and children, and were accepted as tenants. However, in June, the whole of the Cambridge Lodge Estate came up for freehold sale, consisting of a house, gardens and a terrace of six villas.  
The property appeared in Estates Gazette as a substantially built and roomy old residence standing back from the road and screened from it by trees. Behind the house was another garden with a large lawn, flowerbeds, mature fruit trees and heated greenhouses. An enclosed yard had stables and a coach-house with loft and living accommodation, while the house itself had six bedrooms, bathroom, linen cupboard, spacious hall and lounge opening into a large conservatory heated with hot water pipes, as well as a dining room with veranda, morning room and offices.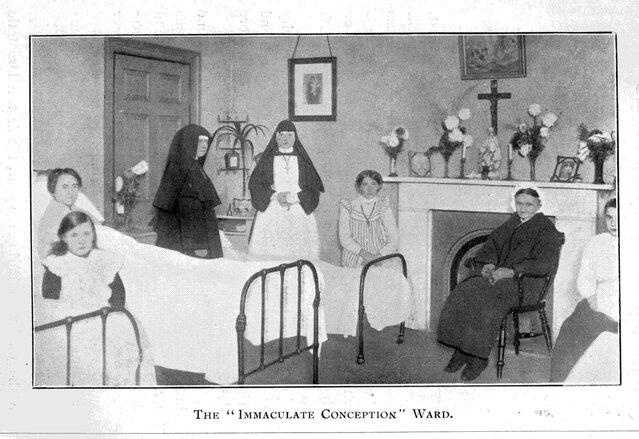 Negotiation for the property
The Sisters made an offer to the estate's solicitors to purchase Cambridge Lodge for £9,000. It met with a chilly response: 'As this Estate covers over two acres, and is within seven minutes by train to the City, we should say that the land alone is worth considerably more than the amount you name.' Negotiation for the property then became complicated and Reverend Mother began to look elsewhere. A property on Lower Clapton Road was considered but the location was not suited to the Sisters' needs. 
Negotiation for the Mare Street site became increasingly protracted but reached a conclusion in December 1903 when the property was sold to an anonymous buyer for £10,000. On 25 March 1904 the buyer gave the entire Cambridge Lodge Estate to the Congregation for the care of the dying. The house was in some need of repair and so possession was delayed for the work to be carried out. 
First patients arrive
Less than a year after the handover of the property on 15 January 1905, St Joseph's Hospice for the Dying opened in Cambridge Lodge with 12 beds. Two patients were admitted late on Saturday 14th January, a woman and a man – the latter a tram driver dying of consumption who was carried into St Joseph's Hospice by friends. His name was Mr. Richard Wheelan.   
This quiet opening of St Joseph's Hospice reflects a shift in attitudes towards the care of the dying poor in London, who for the first time were being seen to need special medical, nursing and spiritual care, in an institutional setting. Among the patrons were Queen Alexandra and her daughter Princess Victoria.  
St Joseph's first Annual Report of 1907 stated that 25 beds were in constant use and gave details of the terms for admission. 
The Founding and opening of St Joseph's Hospice was a dream come true for many people and especially Fr. Peter Gallwey who only lived to see the Hospice for one year before he died the following year. It is recorded that in his last days he visited the hospice regularly spending time with the Sisters and Patients. On his last visit his frailty is evident when he found it difficult to put on his shoes. With his usual dry humour he said 'I'm not such a fool as I look' and insisted on drawing on his shoe with great difficulty.' He then walked around the Hospice and greeted some of the patients. The last that was seen of him was when he walked feebly with his stout stick to help him, a bag slung over his shoulder and venerable head stooped with age. Fr Gallwey was helped into the tram which passed theHhospice door having firmly refused to allow anyone to get him a cab. The Sisters never saw him again. 
The opening of St Joseph's Hospice completely aligns with the aspirations of Venerable Mary Aikenhead who was the foundress of the Sisters of Charity when she so famously said  
'I want to give to the poor for love what the rich can buy with money'  
Venerable Mary Aikenhead  
Keeping the Mission and purpose alive
More than 100 years later and perhaps most importantly of all, it demonstrates to us how a hospice organisation can expand and change over time, adjusting to altered circumstances whilst constantly returning to its original mission  and purpose within the local community. For these reasons the history of St Josephs is both fascinating and important.  
Serving ethnically and culturally diverse populations
St Joseph's Hospice serves a community characterised by a long history of material poverty as well as ethnic and cultural diversity. St Joseph's Hospice also provided the vital context for the early work of Dame Cicely Saunders, whose subsequent activity was to be so consequential for the creation of the whole modern hospice movement. 
St Joseph's Hospice has been the training ground for several cohorts of doctors, nurses and others who have gone on to practice in hospice and palliative care settings all over the world.  
Adapting to social and economic change
St Joseph's is a place that has taken care of the sick and dying in the East End of London since the beginning of the twentieth century. It has done so through many changing contexts and across two world wars.  
Along the way it has adapted to the creation of the National Health Service and responded to major social and economic changes in its local community.  
St Joseph's is a place of building and rebuilding. Part of its story is a sense of invention and adaptability in adjusting to needs and circumstances that evolve over time.  St Joseph's Hospice is a proud modern, caring and compassionate independent Catholic Charity that continues to care for and support the people of East London regardless of faith and background.
Five Sisters Heritage Room
We have a special Five Sisters Heritage Room at the Hospice. Why not come and visit and see some of the artefacts that are part of our history including the first patient record books from 1905 and Fr. Peter Gallwey's walking stick. 
Visit our Five Sisters Heritage Room, located in the Hub at St Joseph's Hospice.